The Challenge Of Musky Fishing
Fishing Techniques
Fishing Guides
One September, I embarked on a 6-day guiding run with three separate sets of clients. We trolled 18% of the time and casted 82% of the time. In those six days, we boated 5 muskies and raised (saw) maybe 8 or 9 more. Four of the five muskies were caught trolling and the fifth was caught by yours truly while casting. In other words,
none
of my clients actually caught a musky while casting.
Now, if I have more than 2 clients in the boat with me, I won't cast. I'll stay off to the side or duck behind the windshield while three big lures go whizzing over my head.
My last two days saw two fathers with their 11-year-old sons, all opting to cast rather than troll. That's five of us in the boat at the same time. Unfortunately, they blanked on muskies for their two-day trip though they did raise a handful.
I'm attempting to paint a realistic picture here of the challenge of musky fishing. Anyone can blunder into a musky while fishing for pickerel.
"Anyone can blunder into a musky while fishing for pickerel."
The difficulty comes when one is
actually targeting
muskies on any given day without the necessary experience or the knowledge of what drives these fish to do what they do. Well, isn't that why you hire a guide? Absolutely! Will hiring a guide guarantee you'll catch a musky? Unfortunately not, and this is my point.
Casting for muskies puts you in the driver's seat. The guide will put you on the fish but you have to seal the deal. This allows you, the angler, the opportunity to see a musky as it follows your bait to the boat or to experience the strike directly during your lure retrieve.
There are many things though that can go wrong for the newbie caster. Anything from poor casting technique to bad hook setting will garner poor results. Some novice musky anglers even experience the 'freeze' and actually stop reeling at the sight of a musky behind their lure. This is understandable but it still won't put fish in the boat.
"The guide will put you on the fish but YOU have to seal the deal."
On the other hand, trolling for muskies puts the guide in the driver's seat, leaving some anglers feeling out of control or somewhat disconnected from the experience. However, when that trolling reel suddenly starts to sing, due in part to the guide's expertise in musky location and lure presentation, there's nothing more exciting than the mayhem of 3 to 5 people scurrying around the boat, all doing their part to facilitate the landing of the fish.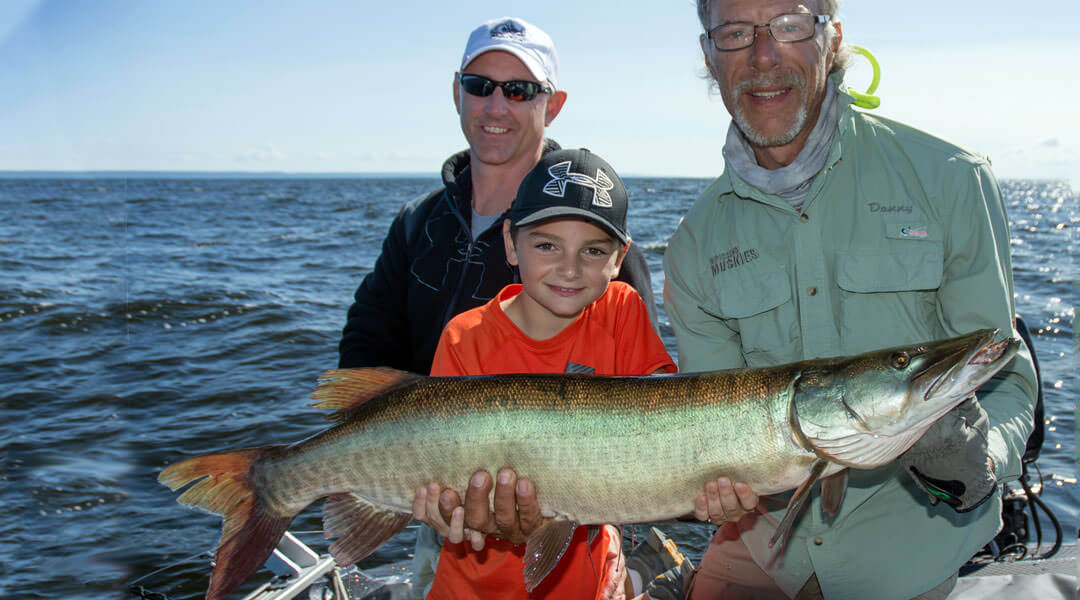 This musky was landed while trolling and the clients were elated to see in the boat.
The Big Question
So here's the big question: Do you want to catch a musky or do you want to learn how to catch a musky?
Casting with a guide will help you develop your own successful presentation skills. Trolling with a guide will simply put more muskies in the boat. It's your choice.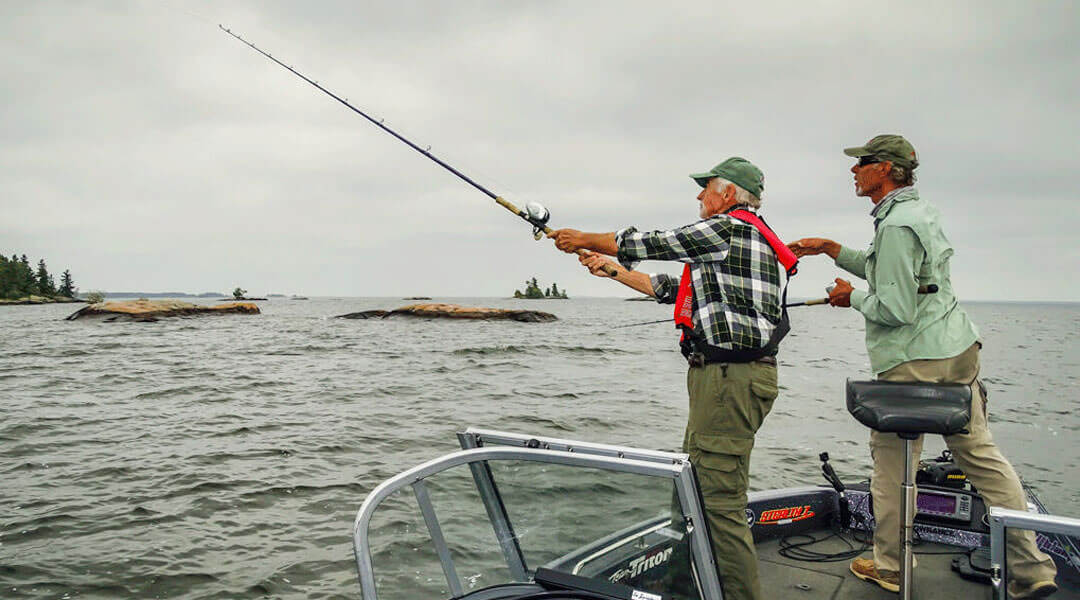 A good guide will take the time to teach you proper techniques and coach you along the way.
The Challenge of Musky Fishing When Casting
Let me tell you why muskies are so difficult to catch while casting. Muskies are moody giants. They're actually not very smart but they are 'conditionable'. A musky that has seen many lures and/or has been caught a few times will become cautious or 'conditioned'.  Conversely, untapped populations of muskies are very aggressive, easily caught, and are quickly converted to the status of 'conditioned fish' at the hands of just a few savvy anglers.
"Muskies are moody giants."
The sport of musky fishing has boomed in the last 15 years and many lakes' muskies are quickly reaching the status of being conditioned, as can be seen in their stand-offish behaviour. A conditioned casted musky will turn away at the sight of a boat or the sound of the human voice, even an electric trolling motor.
It takes a finesse presentation or that bit of something extra to hold their attention and peak their interest. Longer casts are now necessary along with other stealth tactics such as drifting silently into a spot to fool the wary predators. A figure 8 at the end of your retrieve needs to be effective enough to hold a fish's attention on the lure and not on the boat.
"It takes a finesse presentation or that bit of something extra to hold their attention and peak their interest."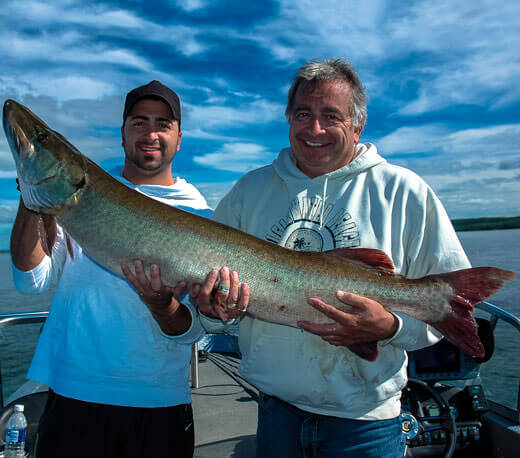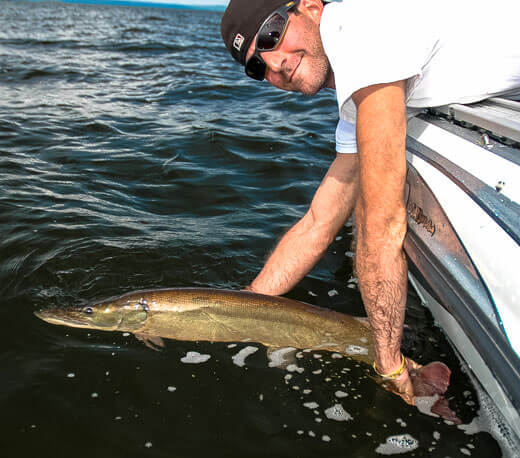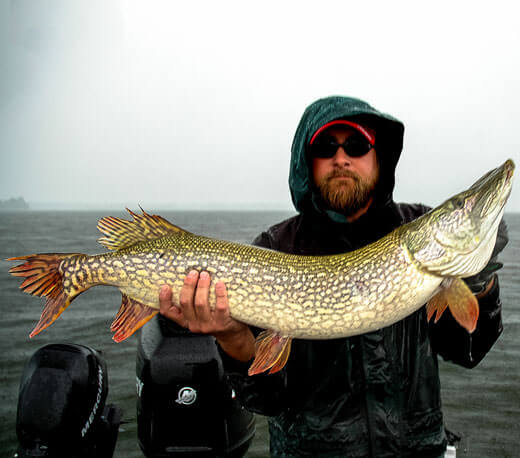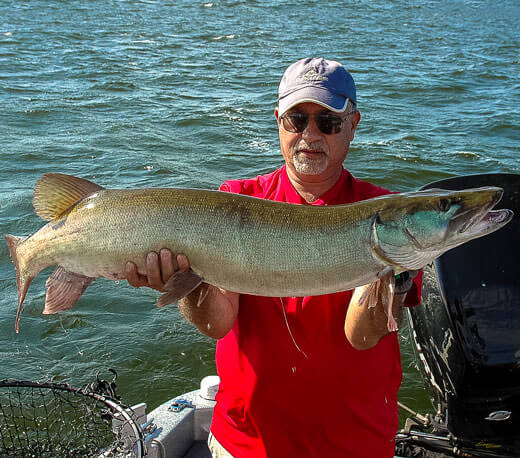 The Good News
The good news is that, with patience and time on the water, anyone can learn how to catch muskies.
Hiring a guide is a great way to learn the ropes. The aforementioned dads and their sons may not have boated any muskies but when they saw that within two casts, their guide would elicit a strike not just once, but on each of the two consecutive evenings of their trip, they knew where they stood in the big picture.
The choice was theirs.
They chose to take the lesson in a positive manner and accept the challenge to continue to hone their casting skills on the next trip. Oh, and did I mention that having a good 'musky attitude' is essential to success?
Don't give up. A good musky isn't just caught, it's earned!
Those of you just getting into musky fishing, what's more important to you: catching a musky or learning to catch a musky? If you've been in the sport for a while, how did you first approach the challenge of musky fishing? Let us know in the comments below!