Muskies are Fast Learners
Fishing Techniques Fishing Tips
Rare is the occasion for the musky chaser to find virgin concentrations of fish like I managed to find early this past season. It was an education for both the fish and I as my clients could do no wrong during the first day on the spot. These are the days when you shoot video for your lure sponsors and capitalize on the kamikaze nature of these untouched muskies.
Virgin fish can be absolutely crazed marauders! Sometimes these concentrations of fish will be in a confined area that can easily be bypassed altogether. It takes observation, patience, favourable conditions, and a bit of luck to find them. But when you do, you'll know it!
Muskies Are Fast Learners
The double-edged sword is that once you find them, you want to keep fishing for them until… they smarten up and become conditioned. Then what?
Well, happily, I found that the fish we located weren't immediately conditioned but simply grew shy of the particular lures they'd been previously caught on. A fascinating morphing of the fish's attitude took place over a short period of less than a week, in which time we got to experiment with lure types and the evolution of musky attitude toward various lures. The punch line of the story is this: don't get hung up on any one kind of lure, especially a popular type or brand, because muskies are fast learners. There's also a profound illumination at the end of this article so stick it out and you'll be rewarded. Here are a few examples sighting the musky's chronological tastes and why one must keep experimenting to stay on the cutting edge.
"…one must keep experimenting to stay on the cutting edge."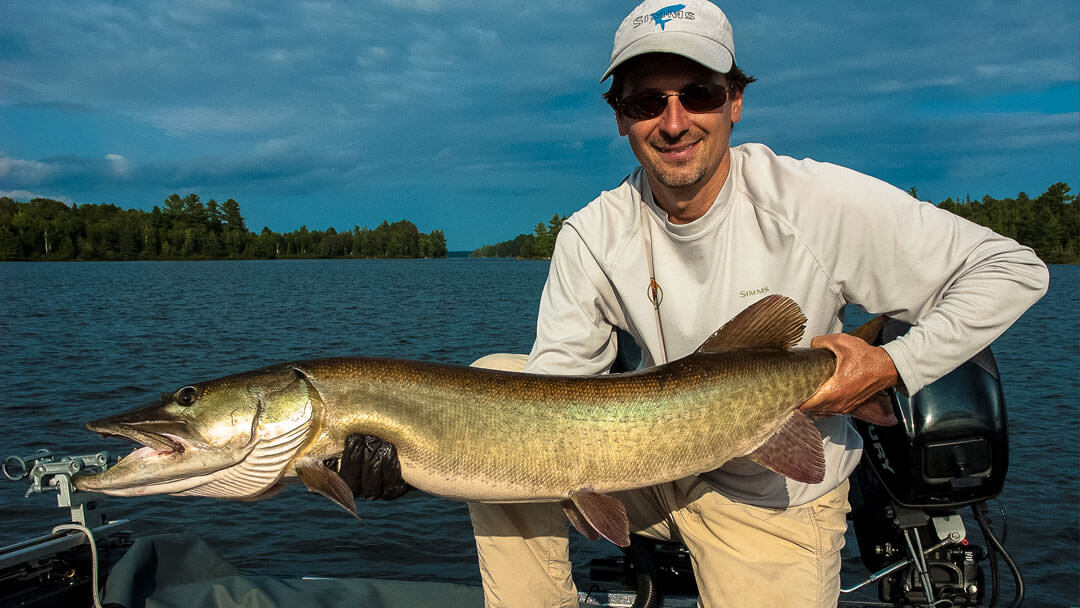 Twin 10 + loud color + flat in shallow water = an immediate 43″ musky that hit like it hadn't eaten in weeks.
The Sweet Spot
One such spot was an extensive flat located in fairly shallow water near a spawning area early in the season. All it took was a long pitch with a twin 10 in a loud color to cut through the semi-murky water. A 43 inch musky immediately hit the lure like it hadn't eaten in weeks, which I learned wasn't likely on account of its deep girth. Little did I know but this was the beginning of a day of multiple fish in the boat! The bright colored bucktail was getting hit on almost every cast in this first spot as was the Top Raider another client was throwing. I'd never seen such a concentration of fish before on my lake! We managed three in the boat before the action died down to simple follows. They were onto us! Muskies are fast learners. We decided to move on with the intention of returning later to see if we could convert the followers. Several other spots yielded muskies but none were as numerous and aggressive as the fish on this new spot we had found. We also noted that our 'hot' bucktail wasn't so hot on the other spots we fished. Upon returning to our hotspot about 5 hours later, we immediately nailed another 40 incher with this being the only player of round two. We returned once more that evening to the same spot with only a few follows. Well, that didn't take long to educate those fish, did it?
"Well, that didn't take long to educate those fish, did it?"
The Return
But I couldn't wait to return to the spot a few days later to see if they'd 'forgotten' the bloodbath that had ensued days earlier. When my new clients and I arrived at 'the spot' the muskies followed the bright bucktail aggressively but wouldn't hit. They also shunned the Top Raider that was successful a few days earlier. I reached into my bag of tricks and pulled out a more subtle black and silver colored bucktail, same size and model as the other. First cast and bang, the follower was a hitter again. Was it the same fish from days earlier? Was it possible that a musky would recover that fast from being caught only a few short days ago?
"First cast and bang, the follower was a hitter again!"
Another cast saw a nice mid 40 inch fish follow under my black bucktail but wouldn't come right to the surface for it. I actually saw a small white abrasion on its upper lip suggesting a fresh catch wound. Wow, this was probably one of the muskies we'd caught two days earlier and it was aggressively following my bucktail two days later! The funny thing was, I didn't raise that fish on the bright colored bucktail I had been throwing over its hiding spot. I truly believe the darker bucktail was perceived as something new and attractive.
"I truly believe the darker bucktail was perceived as something new and attractive."
Shifted Preference
We didn't catch as many muskies as we had the days before but it was clear that now there was a preference for this new color of bucktail. By the end of that 2nd day, the black and silver twin 10 would also run out of juice. Day 3 saw me waiting until later in the day to target the hotspot. I again had my clients throw the twin 10 black and silver, as well as the bright colored bucktail. Weather conditions were similar to the day before. A few follows and that was it. I thought the party was indeed over but decided to try one more option. I pulled out an old black and silver Eagle Tail single blade and put a white grub trailer on. This bucktail gave a different vibration and was not as 'loud' as the twin 10s. Let's see if this concept makes a difference.
The Test
The 2nd cast with the Eagle Tail yielded a 39 incher! A 5th cast yielded a 41 incher! Amazing! This was all from the same spot!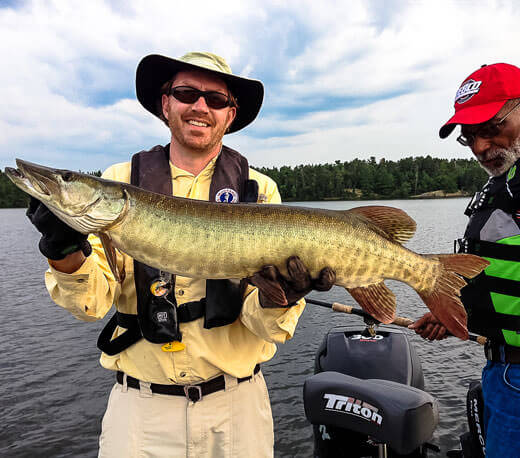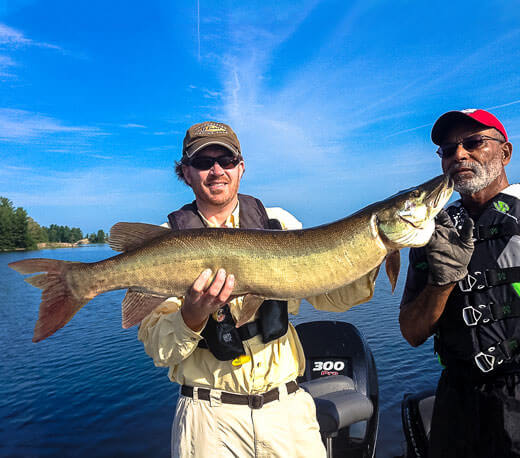 I didn't recognize any old wounds on these fish so I think they were new comers. If this were true, why didn't they go after the previous lures? Maybe there existed a prevailing attitude now on the spot where there wasn't active 'competition' as there had been during the first day we fished. Maybe 'virgin' muskies feed in a pack and use 'competition' as a trigger for aggression. Now that several of the fish in that area had been stung and as if to reinforce the fact that muskies are fast learners, they were being stand-offish and the competitive mood wasn't prevalent anymore and it took a new less threatening lure to 'move' them. Might I mention that on day 1, the bucktail would hit the water and immediately something would streak just under the surface toward the splash from about 30 feet away! That's aggression. We never saw that again on this spot after that first day.
Musky Moods
The rest of the week saw no action on the previously successful lures, including the Eagle Tail. However, each new incarnation of 'musky mood' predicated a new and softer, subtler approach. We started catching them on 6 inch rubber swimbaits when nothing else would work. Once again our muskies began to hit again. The rest of the season saw me returning to this spot from time to time and almost every time I changed up my presentation, I would catch a fish or two. By the end of the season we were throwing small jointed crank baits and straight reeling them or softly ripping them to induce hits. We never saw the numbers or aggressive behaviour of that first day again. Now, the reason for this long-winded story is that I had a rare opportunity to play with muskies from their most active state to their most guarded state. Each time I 'calmed' the lure attitude down, I started catching spooky fish again.
"What if the popular areas you're fishing are harboring 'moody', conditioned fish?"
Something to Ponder
Now think about this: what if the popular areas you're fishing are harboring 'moody', conditioned fish? I drew this conclusion earlier on from the experiences shared in this article. I decided to throw the 'quieter' Eagle Tail on my other popular spots where I'm sure everybody else was throwing twin 10s. The darker color and momentary flash of the single blade, I surmised, didn't overload the conditioned fish's senses and therefore caused it to be less wary. I caught fish on those worked-over spots with that Eagle Tail. Nothing else worked. By the way, this too is probably why black and silver is such a ubiquitous color among musky chasers in the first place. Let's take this possible theory one step further. We've all heard of the freakish 60 inchers that get caught once in a blue moon by none other than bass or walleye fishermen employing small-lure tactics. Could this be the answer to targeting battle-hardened giants?
"Could this be the answer to targeting battle hardened giants?"
Danny Colomby is a professional musky guide and owner of Nipissing Muskies
Under Our Noses
Just over half a decade ago, a local fisherman caught a 60 inch musky on a trolled rattle bait while targeting pike and bass. The giant was caught in less than 10 feet of water! The fish was released and apparently swam away strongly. Five years later the local MNR trap-netted several muskies, three of which measured 59 inches or larger. The longest was a 62.5 incher! I saw the pictures and I'm a believer! If the earlier musky grew half an inch per year it would have been 62.5 inches. These fish are swimming around right under our noses and yet nobody seems to even come close to raising or seeing them. Ken Obrien's Canadian record was caught on a jointed Rapala. Smaller, gentler, non-threatening lure approaches might be the answer to targeting giants. We're talking about timid, battle scarred animals. Food for thought. As told, my experience is that muskies are fast learners. What has your experience taught you? Let us know in the comments below!