2020 Nestor Falls Musky Cup Results
Ask anyone: 2020 has been anything but normal. When things start to go sideways – as they have been for months on end now – it's a nice break to participate in something as 'far removed from it all' as one can get. Enter the 2020 Nestor Falls Musky Cup!
If you're not familiar with the NFMC, head over to their Event Showcase to school yourself, then come back for the goods!
With the video format used for catch confirmation, the NFMC was well positioned to happen regardless of the nasty bug infecting the world. (Fun fact: Nestor Falls hasn't seen one case as of the time of writing.) Still, not having an official rules meeting to kick things off for example, set a different tone this year. Instead, Byron Walker (who puts on this event) was able to meet up privately to go through the rules, schedule and explain what needs to be done with the teams' videos. (Some of which you will find below).
Get your very own long-sleeved, quick drying, UPF 50+ rated Nestor Falls Musky Cup Shirt in one of 4 colours with custom artwork by Mick Coulas.
A Slight Twist This Year (Also The Last?)
This year, the 9th year running, the Nestor Falls Musky Cup attracted 28 teams. Despite the newly added State-side takeoff point at Young's Bay Resort in Minnesota, the border closure did prevent some long-standing teams from making an appearance.
Still, there were many new faces this year along-side the vets. Hopefully by next fall things are much closer to normal, with everyone once again convening on the Canadian side of Lake of the Woods (where the bigger muskies like to hang out 🙂 ).
Commenting on the success of this year's Musky Cup, Walker said: "Typically, over the course of the 2 days, we'll get 40-80 muskies. This year was no disappointment; the fishing was superb with over 80 muskies caught! Twelve of which were over 45″, including a 47.5″, 2x 48.5″, 49″ and a 50-class."
A Video Playlist of Highlights from the Nestor Falls Musky Cup
"…the fishing was superb with over 80 muskies caught!"
The 2020 NFMC Winners
Not to break with the trend, this year a team that has never won before will have their names etched into the Musky Cup (and get to take it home until next year). Every year has had a new winner – – no repeats yet!
The icing on the cake is that this team, consisting of Thatcher Haggberg as Captain and Dave Bonke as co-captain, have been participating every year. Persistence pays off, it seems!
Thatcher and Dave caught four fish for a total length of 174 inches.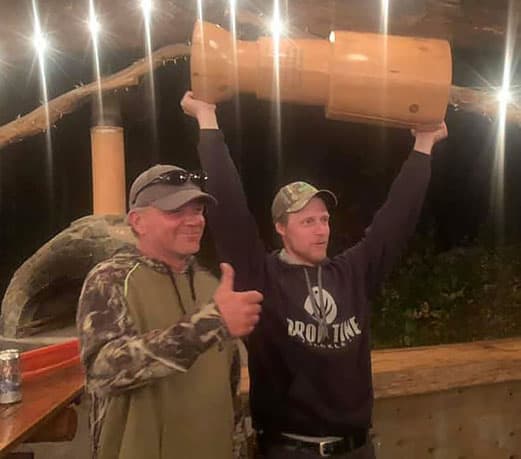 Thatcher and Dave caught four muskies with a total length of 174 inches, netting them first place with the Musky Cup. Congratulations!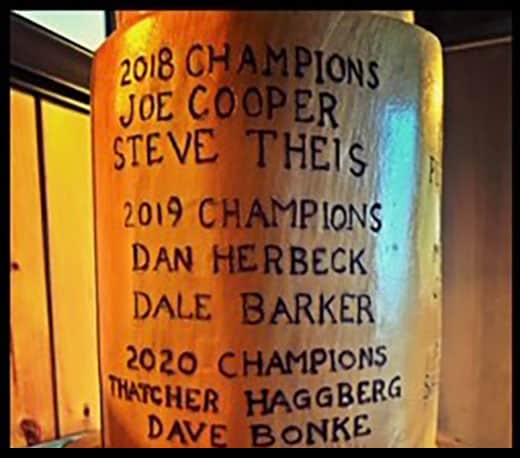 There are still room for ~20 more teams' names. Long live NFMC!
The 2020 NFMC Runners Up
Damien Stang and and Jenna Jarvis placed second, catching four fish with a total of 166.5 inches. They also netted the big fish for the tournament, a 50″ beauty! While this wasn't enough to take home the cup, it did 'net' them a new chainsaw!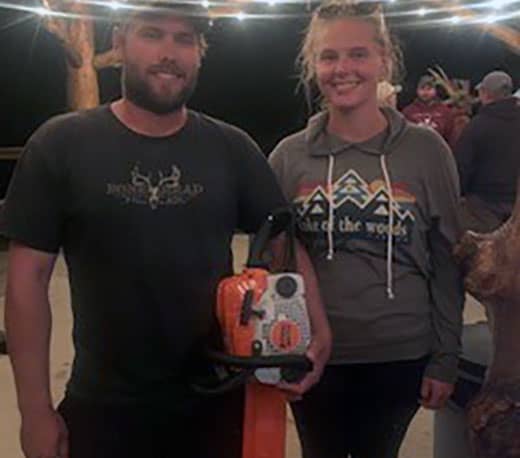 Biggest fish of the tournament (50″) and four fish totalling 166.5″ put Damien Stang and Jenna Jarvis in a solid second place. Congrats!
Third Place At The 2020 NFMC
Andrew Rideout and Zac Buwalda, who won the 2015 Musky Cup, placed third with four fish totalling 163.5 inches. Well done!
Check out the following table for all of the results:
"Overall, this year's Musky Cup went very well. There were no breakdowns, no one got hurt and everyone left saying 'next year'."
Conclusion
We too, look forward to next year as it'll be NFMC's 10th anniversary! It's sure to be the biggest one yet. Stay tuned for details as they emerge.
If you are / know of a sponsor that would like to participate next year, you can contact Byron Walker through the contact form on the Nestor Falls Musky Cup Event Showcase page.